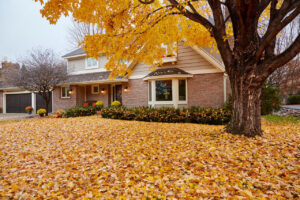 Summer is almost over, and it's time to get your home ready for the cooler weather ahead. The early fall is a great time of year to take care of both indoor and outdoor tasks, as temperatures are generally mild and there are still plenty of daylight hours. While it may seem like extra work, taking care of some simple household tasks can make for a much smoother transition between the seasons.
Of course, you might be wondering what you should do around the house to get your home autumn-ready. In this article, we'll share five tips for preparing your home for the changing of the season, some of which you can easily accomplish yourself. Keep reading to learn more!
Five Ways You Can Prepare Your Home for the Autumn Season
Clean out your home's gutters. During the summer months, your home's gutters can collect all sorts of debris, including insects, leaves, twigs, and dirt. This can cause your gutters to clog, and allow rainwater to build up – which can lead to property damage like mold growth and roof damage. While generally, you can clean your gutters yourself, if you're not sure how to do so or if you're concerned about doing it properly, you can call a professional for help.
Prepare your outdoor AC component. This is simple to do yourself. Over the summer, weeds and other vegetation may have grown up around the outdoor component of your air conditioning system. Dirt and debris may have collected there, and occasionally pests may make their nests around the system. Remove visible vegetation growth and debris, and gently hose off your system. 
Get your garden ready for cooler weather. If you have flower beds around your home, remove any annual flowering plants that are dying off and weeds that have cropped up. You might choose to wrap some plants in burlap for the upcoming cooler season, to protect them from the elements. Plant any spring bulbs such as daffodils, tulips, and crocuses. Replenish mulch, and add fertilizer such as manure or compost to help prepare the soil for its wintertime nap.
Make sure doors and windows are weatherproofed. Weatherproofing your doors and windows is a simple way to help your home stay warmer and be more energy-efficient once the outdoor temperatures start to dip down. Weatherstripping can help keep cold air out and warm air in and is readily available at your local home and hardware store. While weatherstripping your doors and windows, check for any concerns (such as cracked windows or rotting window or door frames) and consider having these repairs or replacements completed before winter.
Call for fall maintenance for your home's heating system. Get an appointment on the books with Trademasters for fall heating maintenance as soon as possible. While you might not think you'll need to use your heating system anytime soon, getting maintenance in the early fall means you'll be prepared for any cold snaps. Plus, if there are any problems with your heating system, our technician will likely find them during your maintenance appointment – and that can help ensure your system is repaired and ready once the temperatures drop.
Can Trademasters help me with my fall maintenance needs?
We definitely can! At Trademasters, we provide complete heating services, no matter what type of heating system you own. We can help make sure your furnace, boiler, heat pump, or ductless heating system is in tip-top shape and ready to keep you and your family warm and comfortable once the cooler weather returns. Simply call us at 800-644-6400 or contact us online, and we will be more than happy to schedule your fall maintenance appointment with you.