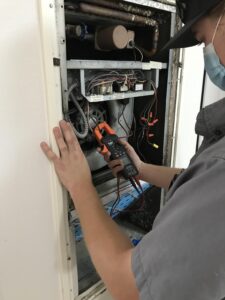 Most homeowners rely on their HVAC system to keep them comfortable all year long. They need a reliable heating system to keep them warm and toasty in the winter and turn to their air conditioning system to keep them cool when Mother Nature turns up the heat outside. It's important to make sure that your home's HVAC system is ready to perform for you, no matter how hot or cold it gets.
One of the best ways you can do that is by making sure your HVAC system gets the maintenance it needs. When you choose a service agreement from a reputable contractor like Trademasters, you can rest assured that your system will get the care it needs to operate properly. In this article, we'll discuss some of the benefits of having a service agreement in place and how Trademasters can help. Keep reading to learn more!
Five Benefits of Having a Service Agreement
Sometimes, people don't realize how important it is to have their heating and cooling equipment inspected on a regular basis. However, there are many benefits to having a service agreement in place that you may not have considered, including:
Better System Efficiency: Because your heating and cooling systems will be inspected regularly, any issues will be identified and taken care of. Often, systems become less efficient simply because they're dirty. A service agreement helps to ensure that those small concerns are taken care of.
Longer System Life: When a qualified technician takes a look at your HVAC system on a regular basis, not only will your system receive the checkup it needs, but any minor problems can be identified and repaired before they become larger, more extensive problems. That helps your heating and cooling last longer.
More Effective Cooling & Heating: When systems don't receive the maintenance they need, they can get dirty. And that makes it difficult for them to perform effectively. Systems that are well-maintained, on the other hand, provide better cooling and heating, year after year.
Discounts on Service: A great benefit to having a service agreement in place is that usually, a discount on HVAC services is offered as a part of the agreement. For instance, Trademasters offers a 15 percent discount on parts and services for their HVAC agreement customers.
Warranty Maintenance: Most HVAC equipment manufacturers require regular maintenance in order to keep the system warranty in place. Choosing a service agreement takes the worry out of the warranty becoming void, as both AC and heating maintenance is provided annually.
Does Trademasters offer service agreements?
At Trademasters, we take great pride in providing our customers with the best possible HVAC products and services available. We're pleased to offer our customers our Energy Saver Agreement, which provides two thorough maintenance visits per year. Our NATE-certified technicians will complete a comprehensive 15-point inspection of the HVAC system. The Energy Saver Agreement includes the following:
Priority scheduling
15% off HVAC repairs
Priority access to emergency services
Heating and cooling maintenance inspections biannually.
Additionally, our Energy Saver customers receive a 15 percent discount on all parts and labor, regardless of warranty status. And, our agreements are transferrable, so if you move, your agreement can either be transferred to the new property owner or reassigned to your new property if you remain within our service area.
I'm interested in a service agreement with Trademasters. What do I do next?
If you'd like to learn more about our Energy Saver Agreements and how one can benefit your home, simply give us a call at 703-644-6400 for pricing, or visit us online to learn more. We look forward to helping you stay comfortable, and helping your HVAC system operate at its best and most efficient, no matter what the weather!